EMERALD cable tray systems are manufactured in accordance with the precise standards laid down by the National Electrical Manufacturers Association (NEMA). Thus ensuring standardization of materials used, as well as load-bearing capacities. EMERALD STEEL INDUSTRIES L.L.C Produce a complete range of cable trays as an engineered product, on a regular basis. Emerald delivers stainless steel grating, electro forged grating, press-locked steel bar gratings, heavy duty gratings, aluminum gratings.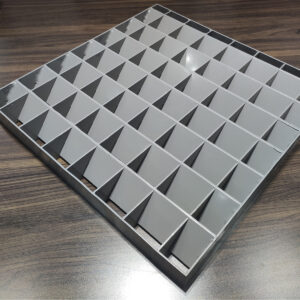 Stainless steel Grating

Electro-Forged Gratings

Press-Locked Steel Bar Grating

Heavy Duty Grating

Aluminum gratings
Stainless steel products are suitable for a wide variety of vertical applications such as balustrades and screening, as well as prestigious flooring, where there is a requirement for a superior product, which is bright and attractive with low maintenance costs. Two different grades are available: AISI 304 for general purpose; AISI 316 and AISI 316L for external use, exposure to harsh substances or marine conditions.
All stainless steel gratings are pickled and electro polished for low surface roughness and maximum corrosion resistance. We continuously improve product quality and production scale. They are widely used in petroleum, chemical, ports, power, transportation, papermaking, foodstuff, medicine, steel, municipal, real estate, manufacturing, etc.
Technical Specifications
1. Load Bar Depth: 20, 25, 30, 32, 35, 38, 40, 45, 50, 60 up to 150 mm.
2. Load Bar thickness : 3, 4 5, & 6 mm
3. Cross Bar Type : Flat Bar or Round Bar
4. Cross bar Depth : In Flats, 10, 12, 15, 20mm and in Round bar 5mm & 6mm dia.
5. Load Bar Type : Plain or Serrated.
6. Finish : Mill Finish or electro polished.
Electro-Forged Gratings type is most commonly used compared to all other grating types due to its strength, Durability, cost efficient production and ease of installation. Commonly used in most general Industrial plants as well as Architectural buildings, it has wide applications as Pedestrian Traffic, platforms, safety barriers, drainage covers and ventilation grates Etc.
Fabricated Electro-Forged Gratings is precisely fabricated to conform the standards and specification under National Association of Architectural Metal Manufacturers (NAAMM). Gratings can be fabricated to suite any angle with Banding, Cutting, Curve or line needed.
Standard Grating Panels
We maintain a huge stock of Standard electro-forged Gratings panels in our Warehouse in Ajman, UAE ready for immediate shipments available especially in Plain or serrated surface.
Finish:
• Mild Steel ( Self Color)
• Mild Steel with Hot Dip Galvanized
• Mild Steel with Painted
Press-Locked Steel Bar Grating – Serrated Grating
Pressure lock bar grating is a kind of high strength grating. It is a product featuring unique combination of uniformity and precision. It has light structure, elegant style, beautiful and natural design and it is maintenance-free. Press-locked steel grating is used in civilian and commercial buildings, theatres, subway, suburban railway, and other municipal engineering.
Press Locked grating is available in two types;
• Press-locked – where Load Bars are notched and then interlocked with Cross Rods.
• Full-locked – Load Bars and Cross Rods of equal heights are notched then interlocked with one another under extreme pressure.
1. Pressed grating general specifications:
1. Type: RR-3-35/33 × 33
2. Bearing bar: (35 × 3)mm
3. Cross bar: (10 × 3)mm
4. Mesh size: (33.33 × 33.33)mm
5. Surface: Plain
6. Material: Steel grade S 235JR have under-gone hot galvanized surface treatment
7. Border finish: Profile border
8. Fastening set: Top Saddle, bolt nut and lower bracket, hot dipped galvanized, 04 nos. for each grating panel
1a) Panel Size (L × W × H):1000 × 1000 × 35mm (The first dimension 1000 indicates the bearing bar dimension)
1b) Panel Size (L × W × H):1000 × 500 × 35mm (The first dimension 1000 indicates the bearing bar dimension)
2. Grating treads general specifications:
0. Type: TR-3-30/33 × 33
1. Bearing bar: (30 × 3)mm
2. Cross bar: (10 × 3)mm
3. Mesh size: (33.33 × 33.33)mm
4. Surface: Plain
5. Material: Steel grade S 235jr have under-gone hot galvanized surface treatment
6. Nosing: Toe edge
7. End mounting plate: Sides of mounting plates 60 × 3mm (preferable 60 × 6mm) with holes. Rear of profile border 30mm high.
2a) Tread Size (L × W × H): 1200 × 305 × 30mm (The first dimension 1000 indicates the bearing bar dimension)
2b) Tread Size (L × W × H): 1000 × 305 × 30mm (The first dimension 1000 indicates the bearing bar dimension)
Heavy-duty steel grating is economical, having excellent load characteristics and a slip-resistance surface. The Heavy Duty style handles a heavier load than other steel gratings, adds angle noising, and provides additional support along the back edge of the tread to provide superior strength. We are manufacturer and stockiest of heavy duty grating products in UAE as per customer specifications.
Floor Grating – Heavy Duty
The load bearing bars are produced from steel which conforms to the following equivalent standards: AS3679 Grade 250, BS4360 Grade 43A and ASTM A36 or equivalent. Serrated surface (serrated bar), banded with the same size flat bar (end banding type), hot dip galvanized.
The minimum average hot dip galvanized coating required by standards AS1650, BS729 and ASTM A123 is 610gms/sq meter (the minimum average thickness of galvanized coating must be 87.14μm).
Width: 600mm / 900mm / 1200mm
Length: 1000mm – 1800mm
Aluminum gratings can take advantage of a useful combination of the materials characteristics. It has a high load carrying capacity, low weight and good rigidity. Making it suitable for sun screening, façade coverings, staircases and ceiling panels. When combining the high resistance to corrosion and adding the anti-slip serrations the grating becomes ideal walkway and stair tread material for many of the harsher industrial environments.
Types of Aluminum Grating products :
Swage-Locked Rectangular Bar Aluminum Grating uses the swaging process to permanently lock the cross rods (positioned every 2″ or 4″) to the rectangular bars
Swage-Locked I-Bar Aluminum Grating is the most widely used and provides the strength equal to a rectangular bar of the same depth, but at far less weight and cost. The I-bars are permanently locked to the cross rods (positioned every 2″ or 4″) by a swaging process.
Press-Locked Rectangular Aluminum Bar Grating is constructed with the two close-tolerance slotted bars bonded together (positioned every 2″ or 4″) using tremendous hydraulic pressure. Permanent locking is achieved by forcing the deep cross bar into the bearing bar. Both the cross bars and the bearing bars provide walking surfaces in the press-locked design